Hygienic Wall Cladding What is it?
Shower and kitchen areas in particular benefit from these watertight, wipe clean surfaces, replacing ceramic tiles, which were never designed to cope with modern hygiene requirements. Veitchi Interiors' dedicated installers deploy a bespoke system to thermo-form sheets at corners reducing the number of joints, further reducing contamination crossover points.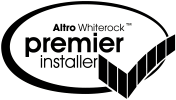 Available in a variety of colours and finishes
There is the classic, hygienic and fresh-looking Altro Whiterock White, ideal for commercial kitchens and clinical areas. Altro Whiterock Satins is ideal for bathrooms and kitchens open to public view. There is also the option of glossy vibrant shades with Altro Whiterock Chameleon, as well as Altro Whiterock Digiclad allowing you to create your own bespoke digital print.
Contact us about Hygienic Wall Cladding